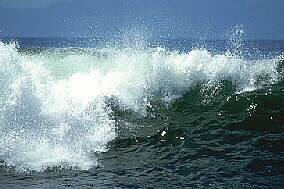 The abundant tide pools, spectacular geological features and rich shore life were the reasons Dr. Josephine Tildon choose the area that is now the park for the University of Minnesota's marine station in the early 1900's. During those early years a steamship travelled from Victoria to Point Renfrew, dropping the students off, where they would proceed by foot on a narrow trail to the research station.

If you would like to have your business listed, please Click Here.
---
LOCATION
From Port Renfrew which is located on the west coast of Vancouver Island on Highway 14, there is a good gravel road to a very large parking lot and a 15 - 20 minute pleasant walk in the woods to the beach.
There are no facilities within the park. Visitors must pack supplies and garbage in and out.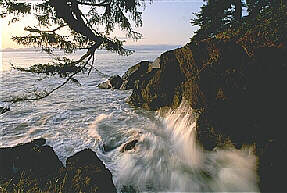 The park area encompasses 251 hectares filled with hundreds of species of plants and animals, all of which have adapted to the wide range of conditions. When the tide is out organisms that cannot survive when dried out will live in tide pools or shaded crevices or by piling together to reduce moisture loss. Sea life such as the Gooseneck Barnacle, the Sea Palm, purple sea urchins, seastars, anemones, snails and mussels are all found here during low tide, nestled into the soft sandstone that the surrounding formations are made by. Killer and Grey whales, sea lions and seals have been observed in the offshore waters.
---
British Columbia Adventure Network © 1995 - 2023 Interactive Broadcasting Corporation